As experts in technology, one of the most frequently asked questions we receive from clients is how we can seamlessly integrate cool, new technologies into our homes without bulky cords and wires ruining the decor. Our team of trained professionals specialize in custom solutions for your home, and we use the most innovative brands that make concealing anything from a wire to an entire TV possible. To get you inspired with some new ideas, check out the list below for our top favorite ways to hide speakers, wiring, TVs, and more in your home.
Indoor and Outdoor TV Concealment
Our clients come to us to solve a problem and often it includes where and how to conceal TVs. It can be as simple as finding the right TV size to fit into a piece of furniture or it could require custom furniture and artwork, motorized lifts, or unique ground-up builds.
For outdoor TV concealment, brands like Seura, Sunbrite, Stealth Acoustics, Planar and several others are all best in class options. These brands are built to withstand harsh outdoor conditions year-round while being highly visible even on the brightest summer day. This project below featured a motorized lift between the hot tub and pool area with the ability for the TV to turn 360 degrees. With very little tolerances on either side of the stonework, our team worked diligently to test the vertical and rotational mechanism before the final install.
For indoor TV concealment, Media Decor, Future Automation and Nexus21 are some of the premium brands Miestro uses for our state of the art concealment systems. You can hide a projector behind a sliding painting (automated, of course), or even create custom artwork that rolls up to reveal the TV underneath. Below is an example of a custom piece of art, painted onto a canvas, that is then installed into a frame around the TV. When you're ready for the big reveal, the push of a button allows the art to roll up above the screen. When the TV is hidden, you simply see beautiful artwork. As many of these installs are recessed into the wall–guests are none the wiser as to what's hidden behind.
Mirrors
Smart mirrors, for example by Seura, are also extremely popular. While typically you may see something to this level in a high-end resort, we can make it happen in your home. Need to watch the news while getting dressed for the day? Simply push a button to illuminate a hidden TV within your mirror. Most designs also include LED lighting integrated into the mirror to provide bright, consistent light.
These mirrors can also be used in other areas of your home, like any typical mirror such as entryways, hallways, or above the mantel. The high gloss glass surface expertly hides the screen underneath.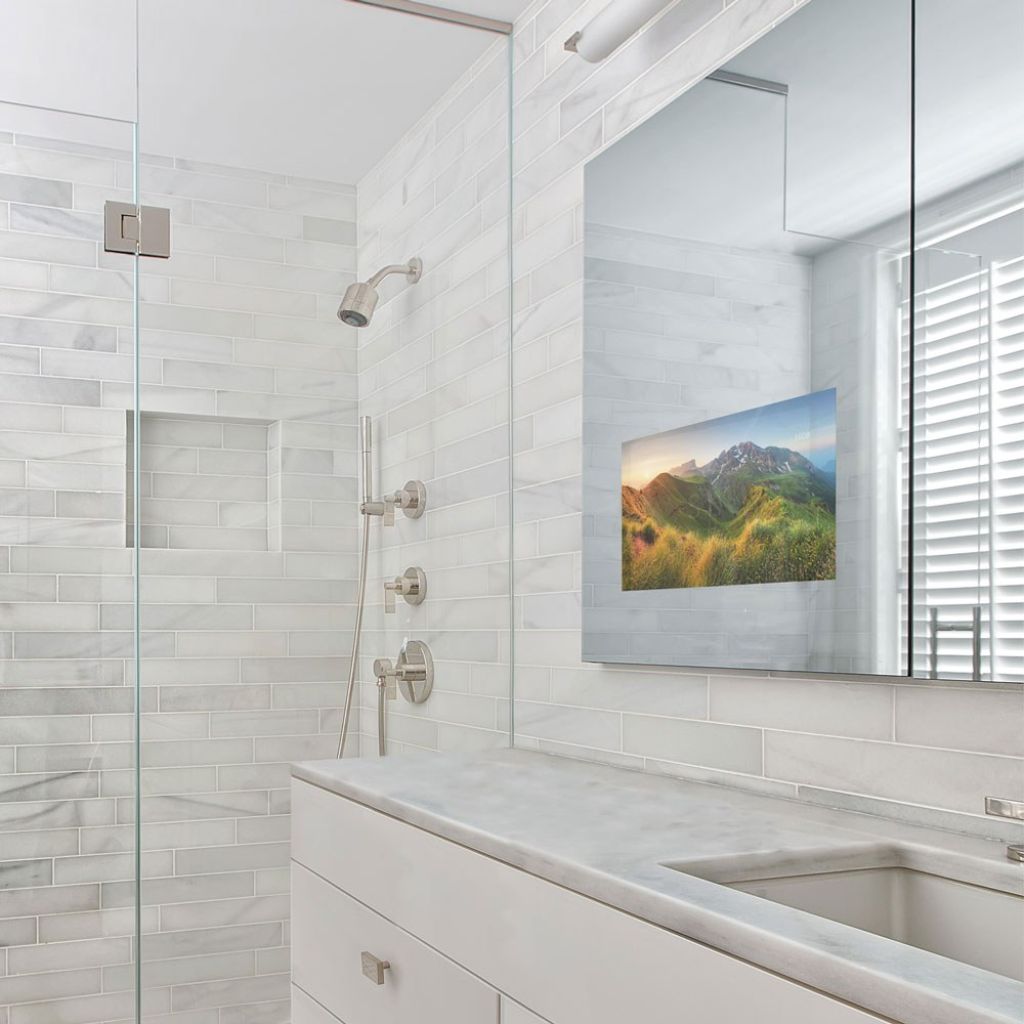 Ceiling, Wall, and Outdoor Speakers
Can a speaker be truly invisible? Absolutely. Wall and ceiling speakers have some of the widest range of concealment solutions, and it's up to the client as to what level they prefer. Especially when it comes to new construction homes, Miestro can hide speakers in between the studs and then sheetrock completely over the tech, leaving nothing visible. These 100% hidden speakers in the ceiling or wall still produce high quality audio without any muffled effect. Amina, Stealth Acoustics, and JBL Conceal Speakers represent three best in class hidden speaker options with incredible sound quality.
Miestro can also hide subwoofers inside the wall with only a small aperture grill exposed. After painting both sides of the grill, it blends into the wall nicely.
For speakers on textured walls, custom painting is a clever trick to conceal the grill. In this project below, a speaker was built into the stone wall surrounding the firepit. After installation, a local artist painted a faux 3D stone texture onto the grill to make it disappear.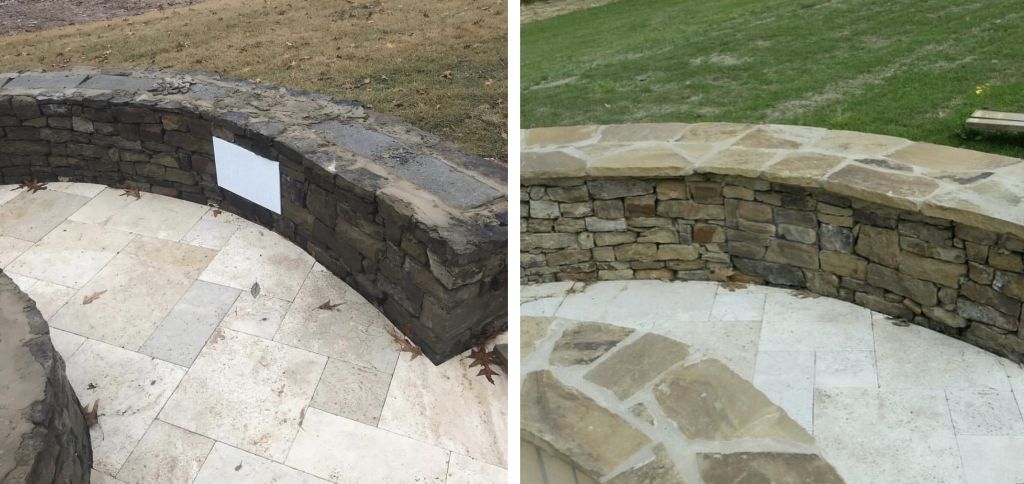 Acoustical Treatments and Soundproofing
Soundproofing and acoustical room treatments are often necessary to achieve an impressive listening experience, but don't settle for an intrusive, unsightly wall panel. Room treatments make a room sound better while soundproofing mitigates the sound that travels from room to room. Kinetics makes products for both uses, and we often combine a variety of their products to remove unwanted sounds. Acoustical treatments and soundproofing can solve a simple problem like eliminating pool pump noise outside a bedroom and can also aid to erase noisy upstairs playrooms and media rooms (even removing footfall noise).
The wall treatment panels are often beautiful and function as their own piece of artwork. Below is an example in our own Miestro showroom of an acoustical wall treatment combining fabric panels and architectural 3D details. Panels like these come in many shapes, sizes, and colors so that your own interior design style shines through while providing more function to your home.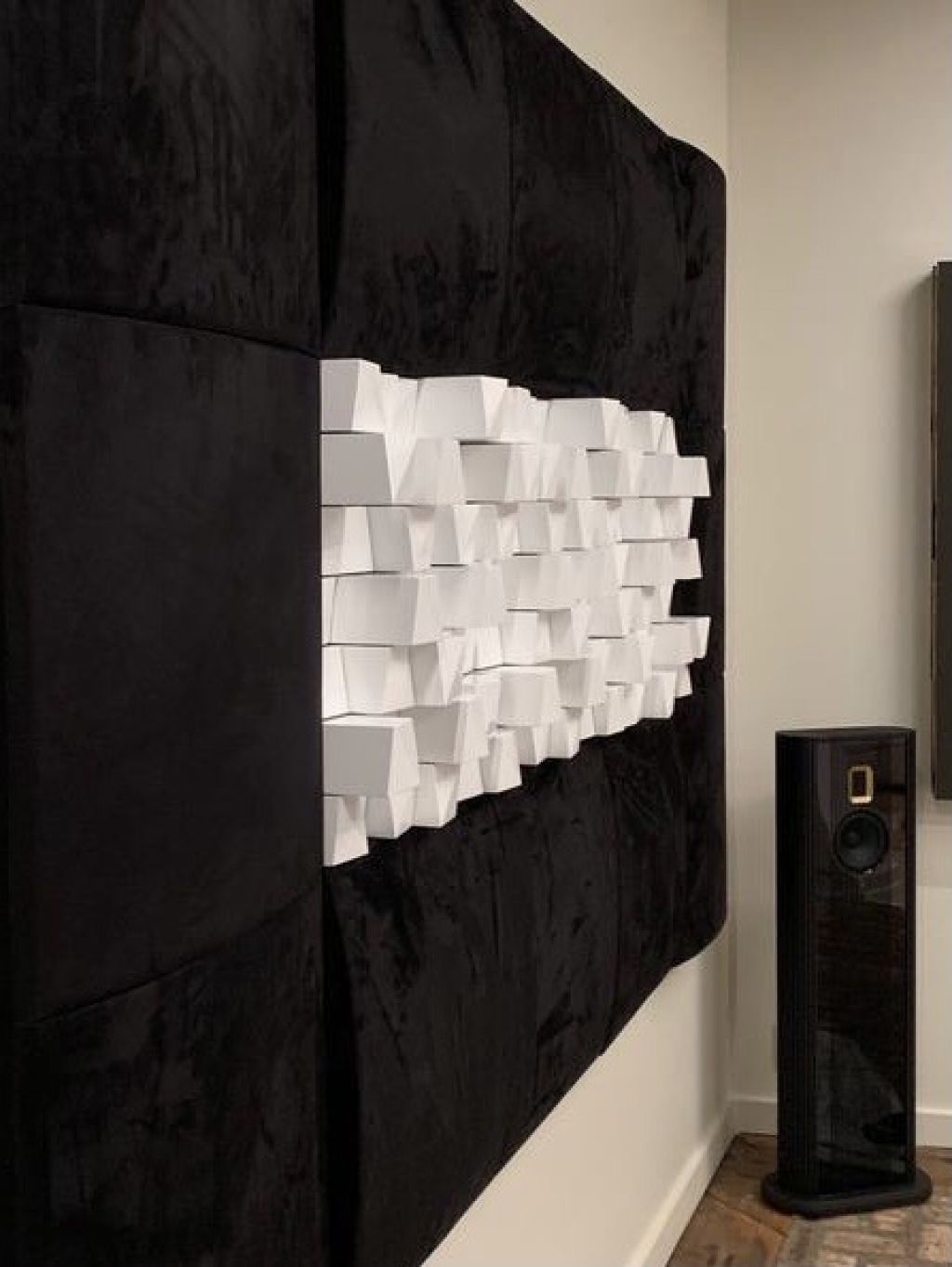 Ready to upgrade your own tech? Get in touch with our team to create a custom solution for your home.
Contact Us
---